Yaesu FTA 750L Airband Transceiver
With an oversize full dot matrix LCD display, the FTA-750L Airband Transceiver / GPS provides full communication on the aircraft communications band and additionally provides VOR and ILS navigation features on the "NAV" band, and waypoint navigation with the built in GPS receiver. The FTA-750L includes NOAA weather band monitoring and the capability of programming up to 200 memory channels with a quick and easy channel recall feature. The easy to operate menu system is icon driven making it simple to navigate through all of the powerful features this transceiver / GPS has to offer.
On request and for a service fee (+30 CHF) we can program your yaesu with all aerodrome frequencies (from Switzerland. The frequencies of Zurich, Bale, Bern and Geneva are in special groups. Additionally you will find all the GPS positions of all Swiss aerodromes preprogrammed. If you want your yaesu preprogrammed just check the checkbox near the price.
All frequencies without guarantee, errors and omissions expected, subject to changes.
Some pictures with preprogrammed frequency list Switzerland aerodromes (+30 CHF):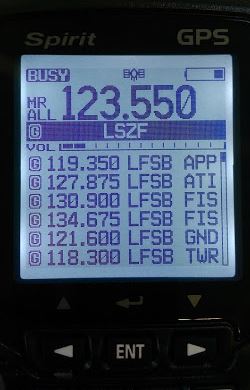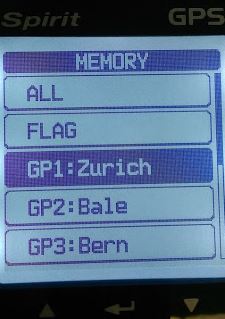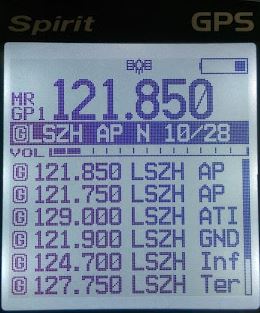 Features:
5 Watts TX Output Power
Huge 1.7? x 1.7? Full-Dot Matrix Display (160 x 160 dots)
ILS Navigation Display (Localizer and Glide Slope)
VOR Navigation Display
Easy to operate menu system
Integrated 66 Channel WAAS GPS receiver
Waypoint Navigation
GPS Position Logging
NOAA Weather Channel Receive (U.S.A. Version Only)
NOAA Weather Alert (U.S.A. Version Only)
200 Memory Channels with 15 alphanumeric characters
Back-lit Keypad and Display
Water Protection ? IPX5 Rating
Loud Audio (800 mW)
High-Capacity Li-Ion Battery Pack (7.4 V 1800 mAh)
Alkaline Battery Tray (AA x 6)
Integrated 66 Channel WAAS GPS receiver
The FTA-750L features an integrated 66 Channel WAAS GPS receiver providing the capability of quickly storing current position information as well as manually entering in waypoints for reliable navigation. When a waypoint is activated the navigation screen features a compass display with Bearing, Course over ground, distance and speed information. No moving map display. GPS Position Logging operation
The FTA-750L includes a GPS Logging feature when activated automatically stores your position information at preset intervals. This is a great feature when backtracking is necessary. ILS (Localizer & Glide Slope) and VOR Navigation
When the FTA-750L receives a VOR signal the display will automatically switch to the Navigation band screen, with CDI (Course Deviation Indicator) based on the received VOR signal. Huge Dot Matrix LCD display
The FTA-750L features a huge 1.7" x 1.7" full dot matrix LCD display with full backlight and dimmer. The high resolution display makes it easier to view all the great features the FTA-750L has to offer. 200 Channel Memory bank
The FTA-750L can store up to 200 Memory channels for quick and easy retrieval. With the capability of using up to 15 Alphanumeric characters per name the FTA-550 allows for a better channel description.
Includes Li-Ion battery pack, charging cradle, AC charger, cigarette lighter charger, antenna, belt clip, headset adapter cable, alkaline battery tray, USB cable.
Includes Li-Ion battery pack, charging cradle, AC charger, cigarette lighter charger, antenna, belt clip, headset adapter cable, alkaline battery tray, USB cable.

zuletzt aktualisiert (2018-10-16)
---